We are an Aotearoa / New Zealand registered non-profit charity and our purpose is to improve the quality of life of people who live with complex chronic illnesses, as well as that of their loved ones.
With our support, people with complex chronic illnesses can, in time, develop an increased ability to participate in family, social, and community life, and lead a life that is fulfilling and meaningful for them.
Our vision to "Empower People Towards Wellness" is delivered through support services and resources offered to members by our Health & Wellness Facilitators and through our innovative award-winning "Towards Wellness" Programme. We work with our members, their families, and their community by providing practical tools and helping them to develop tangible next steps for their journey towards wellness.
​
Myalgic Encephalomyelitis (ME) / Chronic Fatigue Syndrome
Myalgic Encephalomyelitis (ME) also known as chronic fatigue syndrome (CFS) - an abnormal immune system response to any number of infectious or environmental triggers, causing a long-term illness that can result in significant disability.
The main symptoms include
persistent and overwhelming fatigue
post-exertional malaise
muscle and/or joint pains
cognitive dysfunction
sleep disturbance
digestive problems
It is estimated that there are between 16 000 to 20 000 people with ME/CFS effecting people of all ages, ethnicity, and socio-economic groups, although there is higher prevalence among women than men. ME/CFS is challenging to diagnosis in which other conditions need to be ruled out and a specific set of diagnostic criteria met. There are currently no specific medical treatments for ME/CFS.
Symptom severity ranges from 'mild' (just able to manage work but at the expense of other areas of life), to 'very severe' (bed-bound, tube-fed, paralysed, without speech). Even symptoms which are classed as mild can involve the loss of at least 50% of normal function.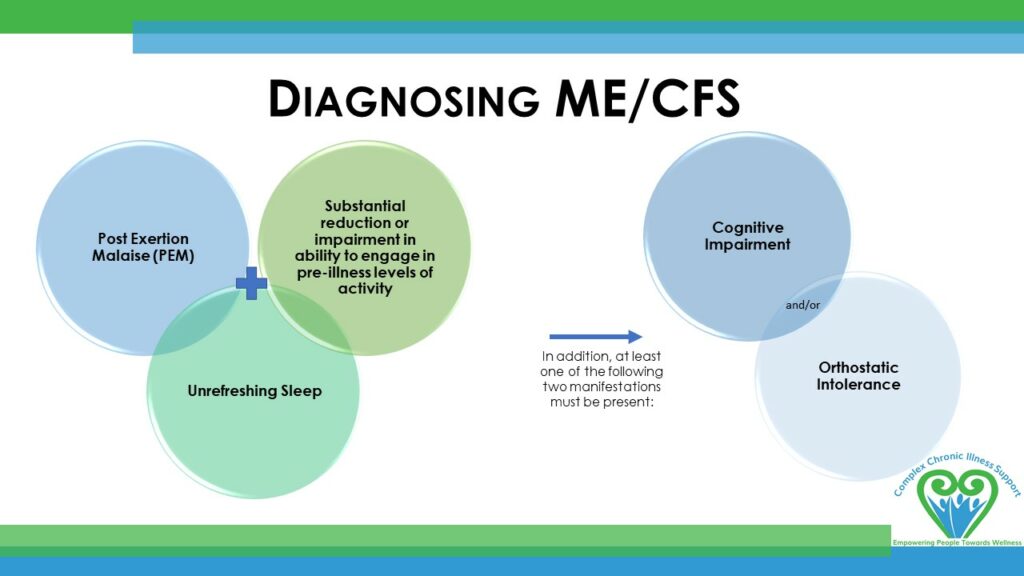 Fibromyalgia
A chronic condition causing fatigue, widespread pain, and tenderness throughout the body and often co-exists with ME/CFS and/or many of the symptoms of this condition. People with Fibromyalgia generally experience pain in specific points around the body and these points are used as a gauge for diagnosis.
Fibromyalgia is a syndrome rather than a disease. Unlike a disease, which is a medical condition with a specific cause or causes and recognizable signs and symptoms, a syndrome is a collection of signs, symptoms, and medical problems that tend to occur together but are not related to a specific, identifiable cause.
For those with severe symptoms, fibromyalgia can be extremely debilitating and interfere with basic daily activities. Fibromyalgia affects two to four % of the population, mainly women, although men and adolescents can also develop the condition.
Symptoms:
Chronic Widespread Pain
Moderate to extreme incapacitating fatigue
Sleep Disturbances
Cognitive Difficulties
Headaches
Sensitivity to touch/light/sound
Anxiety and/or depression
Impaired coordination / balance
Gastrointestinal problems
Chemical senstivities
Orthostatic intolerance
Post-Viral Fatigue / Syndrome
In most straight-forward viral illnesses, recovery takes 2-4 weeks, with symptoms disappearing by six weeks.  However, in a small percentage of patients the duration until recovery can take up to several months. If symptoms remain after 3-6 months with the illness unchanged, a change of name/diagnosis to CFS/ME is appropriate.
Dysautonomia
A term for a group of diseases that include postural orthostatic tachycardia syndrome (POTS) and (OI) Orthostatic Intolerance. In these conditions the autonomic nervous system (ANS) is dysregulated which can lead to blood pressure problems, heart problems, trouble with breathing and swallowing, and erectile dysfunction in men.
Long COVID
Long COVID is a term used to describe the symptoms that continue or develop after your initial COVID-19 illness and cannot be explained by any other condition. Long COVID is usually diagnosed when symptoms continue more than 3 months after the initial diagnosis.
For some people, corona virus disease 2019 (COVID-19) can cause symptoms that last weeks or months after the infection has gone. This is sometimes called post-COVID-19 syndrome or "long COVID".
The latest research from Professor Tate states that people who develop Long covid develop a chronic inflammatory immune response in the body system. This has strong neurological symptoms like brain fog and sleep dysfunctions.  Inflammation in the brain is called neuro inflammation. The brain is misfunctioning and communicating back to the body that it is in danger and the inflammatory response just keeps going, resulting in a vicious cycle and on-going disease.
General symptoms include:
fatigue
fever
abdominal pain
joint pain
muscle pain
nausea and vomiting
diarrhoea
weight loss
reduced appetite
sleep issues.
Neurological symptoms include:
loss of concentration or memory issues (cognitive impairment, 'brain fog')
headache
sleep disturbance
pins and needles and numbness
dizziness
delirium (in older people)
lack of strength in arms or legs (mobility impairment)
visual disturbance.
Ear, nose, and throat, Cardiovascular and Respiratory symptoms.
Treatment for Long COVID is similar to that of ME/CFS. It is about managing symptoms and pain.
The key to symptom management is pacing.
If PEM (post-exertional malaise) is experienced, you must avoid exercise and activities that cause fatigue or increased symptoms, and conserve your energy.
MISSION AND VISION
Complex Chronic Illness Supports vision is to Empower People Towards Wellness. Our purpose is to improve the quality of life of people who live with a complex chronic illness, as well as that of their loved ones.
With our support people with complex chronic illnesses can, in time, develop an increased ability to participate in family, social and community life, and lead a life that is fulfilling and meaningful for them.
Charlotte Kelp (Health and Wellness Facilitator - Tauranga and Western Bay of Plenty) explains who CCI Support is and what we are trying to achieve.
If you'd like to learn more about any of our services, or get involved, we'd love to hear from you.