Supporting people impacted by Complex Chronic Illness.
Looking well but feeling extremely unwell?
Do you suffer from…
Persistent fatigue?
Muscle or joint pain?
Impaired memory & concentration?
Disturbed sleep patterns?
Digestive issues?
Our support service may be able to help
Chronic Fatigue Syndrome (CFS/ME)
ME (Myalgic Encephalomyelitis), also known as Chronic Fatigue Syndrome, has been described as an abnormal immune system response to any number of infectious or environmental triggers, causing a long term illness that can result in significant disability.
Main symptoms include:
Persistent and overwhelming fatigue
Post-exertional malaise (PEM)
Muscle and/or joint pains
Cognitive dysfunction - impaired memory & concentration
Sleep disturbance
Digestive problems
Sensitivities to light and sound
Headaches/migraines
Sore throat and/or enlarged lymph nodes
Dysregulated temperature control - fever/chills
POTS / Orthostatic intolerance - erratic heart rate, feeling faint or dizzy upon standing
Anxiety and/or irritability
Post Viral Fatigue/Syndrome (PVF/S)
In most straight-forward viral illnesses, recovery takes 2-4 weeks, with symptoms disappearing by six weeks.  However, a small percentage of PVF's patients will take several months to recover.
If symptoms remain after 3-6 months, with the illness unchanged, a change of name/diagnosis to CFS/ME is appropriate.
This condition comes about after a person has experienced a viral illness like:
Common cold
Influenza
Pneumonia
Epstein-Barr Virus
Herpes Virus
HIV
Other virial illnesses like Corona Virus, SARS etc
Most people will recover from a viral illness after a week or two, but if after many weeks or months you still feel unwell with these symptoms you maybe experiencing PVS:
Fatigue
Headaches
Confusion and trouble concentrating
Body aches and pain in the muscles
Stiff Joints
Sore Throat
Swollen Lymph Nodes
People who have compromised/weakened immunity or have pre-existing conditions maybe more prone to PVS.
There are no clear-cut answer as to what PVS is yet. It is possible it is caused by a delayed response from the immune system to the virus, inflammation in the brain, or an overload on the immune system from the virus. At present there is no clear treatment from GP's for PVS.
It is important to act quickly if you think you may have PVS. Getting a diagnosis is important but responding to the symptoms is more important.
If left, PVS can develop into Myalgic Encephalomyelitis aka Chronic Fatigue Syndrome (ME/CFS), this is a long-term chronic illness with poor quality of life outcomes and few treatment options.
At Complex Chronic Illness Support we can provide you with the right information on how to manage your symptoms and how to live in a way that supports your body to heal itself. There are no quick fixes but CCIS are experts in symptom management information and providing the right support for conditions like PVS. We also support people with ME/CFS, Fibromyalgia, Postural Orthostatic Tachycardia, and Orthostatic Intolerance.
Long Covid
Long COVID is a condition that "occurs in individuals with a history of probable or confirmed SARS-CoV-2 infection, usually 3 months from the onset of COVID-19 with symptoms that last for at least 2 months and cannot be explained by an alternative diagnosis".  For some people, SARS-CoV-2 coronavirus (COVID-19) can cause symptoms that last weeks or months after the infection has gone. This is sometimes called post-COVID-19 syndrome or "long COVID".
Whilst this is a new 'condition', we at CCIS were all too aware of its possible implication from SARS-CoV-2.  Long COVID resembles the very familiar to us (ME/CFS) Myalgic Encephalomyelitis.  We are aware that Long COVID has a serious impact on people's ability to go back to 'normal' life. It affects their mental health and may have significant economic consequences for them, their families and for the wider community.
Emeritus Professor Warren Tate says the main difference between the two is ME/CFS can be caused by several viruses, including Epstein Barr and Glandular Fever, and also by non-viral sources like trauma and agricultural chemicals, whereas what we call Long Covid is caused by just one pandemic virus, Sars-CoV-2.  Long Covid also includes unique symptoms particular to the effects of Covid-19, including hypercoagulation, a condition that causes blood to clot more easily.
Common long COVID symptoms include:
extreme tiredness (fatigue)
shortness of breath
chest pain or tightness
problems with memory and concentration ("brain fog")
difficulty sleeping (insomnia)
heart palpitations
dizziness
pins and needles
joint pain
depression and anxiety
tinnitus, earaches
feeling sick, diarrhoea, stomach aches, loss of appetite
a high temperature, cough, headaches, sore throat, changes to sense of smell or taste
rashes
Treatment of Long COVID is similar to that of ME/CFS - managing symptoms, pacing, pain management, if PEM is experienced, you need to avoid exercise and activities that cause fatigue or symptoms and conserve your energy.
Fibromyalgia (FM)
Fibromyalgia is a chronic condition that causes fatigue, widespread pain, and tenderness throughout the body and often co-exists with CFS/ME and/or many of the symptoms of this condtion. People with Fibromyalgia generally experience pain in specific points around the body and these points are used as a gauge for diagnosis.
The points around the body are:
Back of the head
Area between the shoulders
Front of the neck
Top of the chest
Outside of the elbows
Top and sides of the hips
Insides of the knees.
Orthostatic Intolerance
Postural Orthostatic Tachycardia Syndrome (POTS)
Neurally Mediated Hypertension (NMH)
In these conditions the autonomic nervous system (ANS) is dysregulated which can lead to blood pressure problems, heart problems, trouble with breathing and swallowing, and erectile dysfunction in men.
Main symptoms include:
Light headedness
Altered vision
Headache
Heart palpitations
Exercise Intolerance
Fatigue
Neuro-cognitive deficits
Anxiety
Nausea
Abdominal discomfort
Tremulousness
Sweating
Weakness
Syncope (fainting)
An Existence Project
A paper stop-motion animation about what it's like to live with mild or moderate ME/CFS. Inga made this short film so people would have something they could show their friends and family to help them communicate the complex aspects of living with this chronic illness.   Created by: Inga Topolnicki and added to our website with direct permission.
CCI Support is now a national service.  We can work with people throughout New Zealand. Tauranga, Hamilton and Wellington have local Facilitators, all other areas are currently supported online and via phone at this stage.
We also offer support for family and friends of people living with the conditions that we support.  The person does not have to be a current CCIS member. 
As a community health agency that supports people with Chronic Fatigue Syndrome, Fibromyalgia and other related illnesses. Complex Chronic Illness Support has a vision to "Empower People Towards Wellness" and our purpose is to improve the quality of life of people who suffer from a complex chronic illness, as well as that of their loved ones.
With our support, people with complex chronic illnesses can, in time, develop an increased ability to participate in family, social and community life, and lead a life that is fulfilling and meaningful for them.
We provide many resources to our members including our innovative award-winning "Towards Wellness" Programme. We work with our members, their families and their community providing practical tools and developing strategic plans on how to find their next steps towards wellness and educate, empower and give them the tools to manage their symptoms.
If you would like some help, please complete the self-referral form below and a Health and Wellness Facilitator will endeavour to get in touch with you within 10 working days.
We do ask for a nominal membership fee that will cover your support for 1 April till 31 March annually.
What services we provide: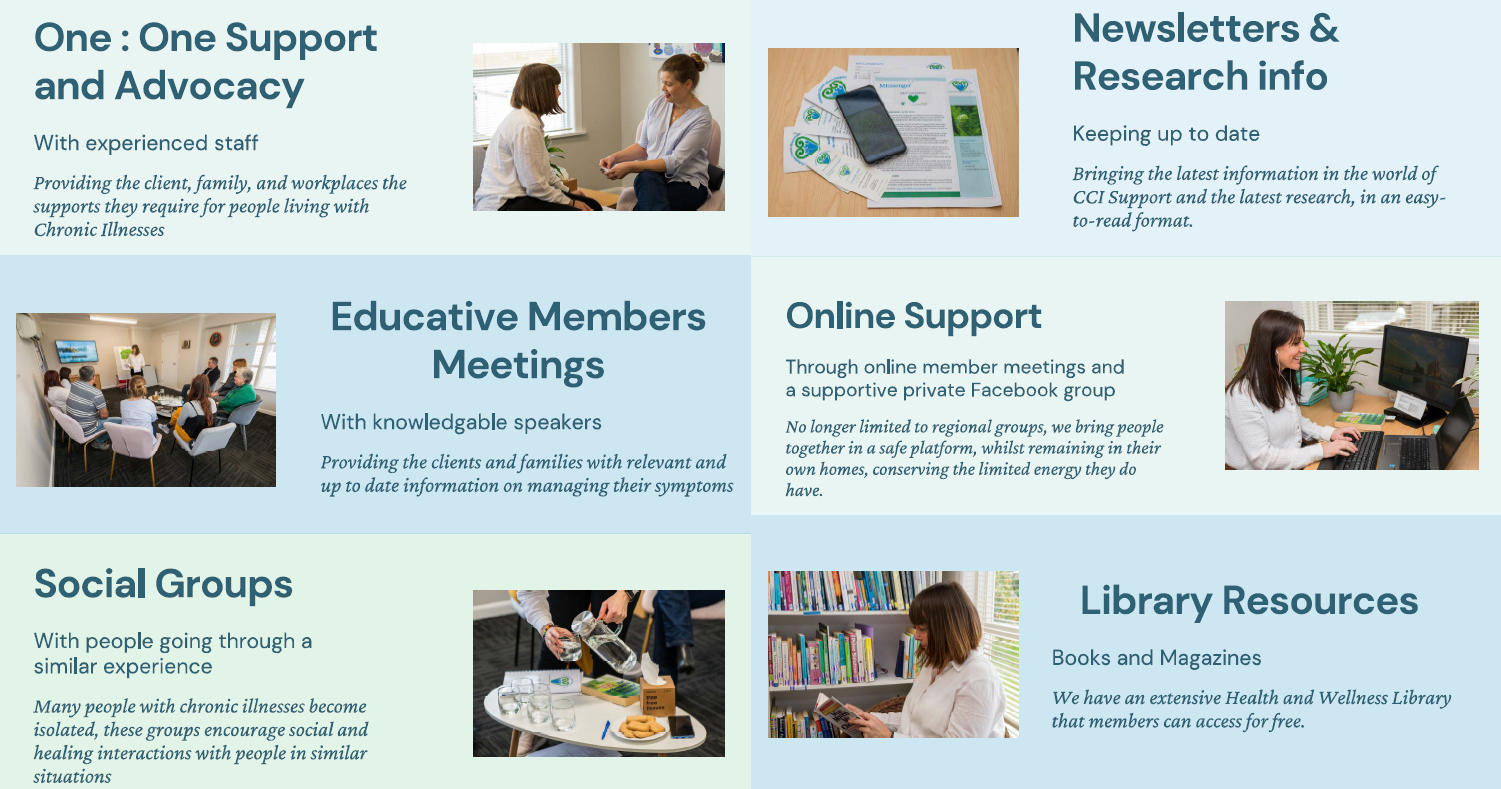 CCI Support is now a national service.  We can work with people throughout New Zealand. Tauranga, Hamilton and Wellington have local Facilitators, all other areas are currently supported online and via phone at this stage.
Our Blog has some wonderful stories and encouraging words from other members.  It's well worth checking out.
The Complex Chronic Illness Support AGM is coming up. You can find out more information here!!
Written by Rosamund Vallings MB BS, featured on www.anzmes.org.nz We know that any viral illness will be followed by a post-viral phase. During this time the body is theoretically in "recovery mode." Even after a simple cold, a person can be left feeling...
https://youtu.be/_38Mn-3ecEY https://youtu.be/eeQtNGU9c2c Two personal accounts for Mel of what it is like living with ME (Myalgic Encephalomyelitis), also known as Chronic Fatigue Syndrome
If you'd like to learn more about any of our services, or get involved, we'd love to hear from you.