Recipes
These are recipes that staff and other members recommend.  They could be healthy, low energy to make etc.  If you've got a recipe to add – please contact us on [email protected]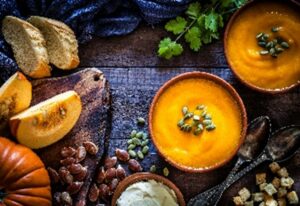 Butternut Squash and Turmeric Soup -Serves 2
This is a simple but very satisfying and nourishing soup I have been making for my lunches. I normally double this recipe to last a bit longer.  This recipe is from the Histamine Intolerance Cookbook. I am currently trailing a low histamine diet, to see if this helps reduce my allergic reactions from eating certain foods. Histamine diet rating for food is Low, Medium, or High.
Ingredients:
¼ White Onion (eliminate if allergy/sensitivity) (Low histamine)
1 Clove Garlic, minced (eliminate if allergy/sensitivity) (low Histamine)
2 cups Butternut Squash (Low Histamine)
1 cup Carrots (Low Histamine½ Red Bell Pepper (Low Histamine)                                                               
2 cups Vegetable Stock (Low Histamine)
½ tsp. Turmeric (Low Histamine)
½ cm Ginger (Low Histamine)
½ tsp. Maple Syrup (optional-Low histamine)
Salt, to taste (Low Histamine)
1 tbsp. Pumpkin Seeds (Low Histamine)
Instructions:
Fry the onion and garlic on a low heat for 3-4 minutes until softened, and then add in the vegetables, turmeric, and ginger. Cook for 5-6 minutes
Pour in your vegetable stock and bring to the boil. Reduce the heat and cook on a light simmer for 20 minutes.
Add the salt, and maple syrup if using.
Transfer to a blender and process until smooth
Sprinkle on the pumpkin seeds, and serve warm into your bowls
GLUTEN-FREE MUESLI
I am constantly on the hunt for healthy breakfast options that are suitable for my diet and entice me to eat breakfast, as I am often not hungry first thing in the morning but starving by 10am and lacking in energy. I decided to try out Chelsea Winter's Gluten-Free Muesli from her latest cookbook Superfood I received as a Christmas present and have to say this is the most delicious home-made muesli I have tasted. I was however a bit alarmed at the amount of ingredients, but this recipe makes a huge amount, that can last for weeks in an airtight container. I serve mine with defrosted frozen berries and diary free yoghurt. If one can tolerate oats, a couple of handfuls can be added and/or addition of pre-puffed grains.
Karen Maxwell Wellness Facilitator
Gluten-Free Muesli by Chelsea Winter
Ingredients
DRY INGREDIENTS
2½ cups sliced almonds
2 cups sunflower seeds
2 cups buckwheat groats
2 cups desiccated coconut
2 cups shredded coconut or coconut chips
2 1/2 cups walnuts, roughly chopped
1 1/2 cups pumpkin seeds
1 cup sesame seeds
DRIED FRUIT
2 1/2 cups dried apricots, chopped (Sulphur -Free Apricots are available)
2 1/2 cups dates, chopped (not the fancy ones – or use other dried fruit such as sultanas)
WET INGREDIENTS
1/3 cup almond butter
1/3 cup honey (or use maple syrup)
1/4 cup maple syrup
1 tsp vanilla extract (optional)
1/2 tsp salt
To make
Preheat the oven to 180°C regular bake and get your biggest oven tray ready (or a huge metal roasting dish if you have one). You may have to cook this in two batches.
If your roasting dish has sides, you can use this to both toast the dry ingredients and mix the final muesli. Or, use a huge mixing bowl to combine things at the end.
Add the dry ingredients to the roasting dish/bowl and mix well to combine. Transfer to the oven tray if necessary and bake until you see the top and edges going slightly golden (5–10 minutes). Give it a stir, and however long it took to cook the first time, keep baking in those intervals, stirring after each time, until the whole lot is a little toasty — about 3-4 times usually does it. The coconut chips will brown first, so make you sure keep stirring it so it doesn't burn.
If necessary, tip it back into the mixing bowl. Add the dried fruit and mix to combine.
Heat the wet ingredients in a small saucepan until melted, then pour over the muesli and stir together to coat evenly.
Leave the muesli to cool completely, then transfer to airtight containers or jars. A jar of it looks very beautiful on the kitchen bench, and the rest is best stored in the fridge so that the oil in the nuts doesn't go rancid in warm weather.
Serve with nut milk, stewed or fresh fruit, Chia Pudding (see recipe in Supergood) and yoghurt or coconut yoghurt. Stewed or canned black Doris plums are my favourite, or homemade stewed apple. And fresh berries if in season!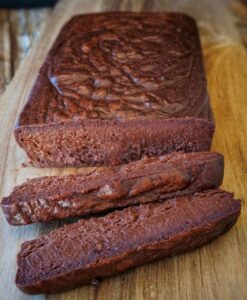 Chocolate Fudge Cake – Bridget Davis
Woohoo Christmas is racing towards us; I've started hunting down some recipes for the festive season. We tend to have a few visitors so quick and easy recipes are a must, as well as ensuring I can eat them myself. Here is a very tasty recipe for all occasions. Dress it up with some fresh fruit and yogurt for a lovely dessert.
Chocolate Fudge Cake – Bridget Davis
Ingredients
400gms Chocolate (use what works for you, DF, SF)
240ml full fat Coconut milk
90gm Fibre syrup or maple syrup
4 large eggs
Method
Pre heat oven 150degC and line a 20cm loaf tin with baking paper
Add chocolate, coconut milk and syrup into a saucepan over low heat, stir the ingredients together and allow them to melt until chocolate is smooth and flowing.
Remove from heat and allow it to cool for 5 minutes
Whisk eggs into chocolate mixture then pour into loaf tin. Place loaf tin into a roasting dish and fill with water until it reaches 2/3 of the way up the loaf tin.
Bake for 60 minutes
Allow cake to cool completely (overnight) before removing from the loaf tin.
Carefully slice the fudgy chocolate cake to serve.
Store in the fridge for up to 5 days.