I haven't been back to the South Island since 1999! So, my memory of it was beginning to fade. We packed our tent and bits and headed off trailer in tow to Wellington after saying goodbye to our dog and house sitter. Stopped off for premade sandwiches (a thing that became the norm) on the side of the quite busy dessert road whilst gazing at the majestic Mount Ruapehu. You forget how magnificent this is!
The batch just outside Wellington (Takapu Valley) for our first night away had an amazing outlook onto pastured hills. So quiet you wouldn't think we were only 15 mins from Wellington CBD. Whoever brought this place had it made! We spent the next day checking out all the funky and hip shops and cafes in Wellington. My daughter will be going to university in a couple of years, so we also looked around Victoria University and went up in the cable car to the Botanical gardens. Wellington is such a quirky and unique place. From the many narrow alleys and steps to the expanse of different shops. We stopped off at Te Papa and was moved by the amazing exhibition of Gallipoli. The models were huge and so life-like you could even see the hairs on the skin move!
The next day we headed off early to the port and was the first in the queue for a lovely smooth crossing to the Marlborough Sounds. What an entrance to the South Island! The sun was shining, and people were on their boats waving to us as we cruised on by.
After landing in Picton we headed towards Golden Bay and the spit, where we stayed in a cabin after deciding it was too windy to put up our tent. We had to get some sleep for our Abel Tasman walk the following day. 2.5 hours travel to pick up our water taxi from Marahau (which was an experience in itself; sitting on a small boat being driven by a tractor out to sea) we got off-loaded on a deserted beach at Barks Bay to begin our 3–4-hour hike through the Abel Tasman.
The cicadas came out in force as we winded through the national park, over swing bridges and across vast open estuaries to Anchorage Bay. After a well-deserved swim in the tropical waters and of course the ole pre-packed sandwiches.
Our water taxi picked us up to take us back to Marahau.
Driving back over the Takaka hills to our cabin we decided the next day we would camp in Golden Bay, not before exploring a bit of the Farewell Spit and its soft, soft, sand!
Golden Bay stay consisted of funky Takaka markets and the famous Muscle Inn, where we had a fabulous vegetarian lasagne. The owner decided a while ago not to put hot chips on the menu, creating a more cleaner kitchen environment. Instead, you have a mouth-watering slice of garlic bread!
The next day we headed down the west coast to Punakaiki. What a landscape transformation! So tropical, with palm trees littering the landscape, and cliffs loaming
down to the sea. We headed out on a 4-hour walk meandering our way along the gorge and when it got too hot, dipping into its clear cool water. Towards the end of our hike, we headed into the hills to be greeted by wild goats, whom by daughter wanted to save and take back with us!  The coast at Punakiaki is a marine reserve and no fishing is allowed. This might explain why we managed to spot 3 pods of dolphins playing and fishing in the waves!
The next day we packed up our tent and headed to Frans Joseph on a wet day, which meant zero visibility. So, we decided to have a holiday away from our holiday
and cosied up in a hotel room for the night with a hot spa to ease our aching camping bodies. The next day was glorious again and we walked to Frans Joseph glacier and look upon one of New Zealand's wonders, to marvel at mother natures gifts. What a sight!
After driving through the Haast Pass and stopping off at Fantail Falls to place our stone on the many stone piles formed by previous visitors. We managed to find a sandfly-free picnic spot for the customarily pre-made sandwiches and a cup of tea.
Driving towards lake Wanaka and through the Mount Aspiring National Park. We were welcomed to another type of amazing scenery! Massive lakes and snow-capped mountains galore!! It was getting late by the time we reached Lake Hawea just outside Wanaka. But we managed to find a spot amongst what seemed like the rest of New Zealand's campers, and settled in.
The next day we headed into Wanaka to try the cheese scones and window shop. I say this, as by now we had tasted a few cheese scones along the way and was starting to rate them! And I say window shop, as Wanaka turned out to be a shopping venue for the more affluent of people, who maybe were not those that went on camping holidays!
We saved our energy for Queenstown and the hope of a possible parasail on the lake. However, what looked and felt like an amazingly beautiful and perfect day for parasailing, apparent had southerlies that put an end to our parasailing ideas. Instead, we decided to swallow our fear of heights (well husbands' fear) and go up in the gondola to take in the view of Queenstown on her lake. Once safely down again (after about 15 mins up there!) we had a perfect afternoon in Queenstown, soaking up the energy and vibrancy of the place.
Not before checking out Patagonia Chocolates and their Dark Chocolate Sorbet. After a massage and mooch around the centre. Whilst the other half sat down by the water.  We spent the evening in a lovely Italian restaurant called Farelli's Trattoria down by Steamer Warf. We got chatting to the English owner who offered my 16-year-old daughter a job if she ever was down that way again! Oh Yes, she thought! I am definitely coming back here!
Then back to Lake Hawea to spend the rest of the night listening to the new English and Irish camping arrivals letting the hair down!
Early next morning, to the sound of snores coming from their campsite, we headed to Lake Tekapo for our cycle ride to Twizel. Not before trying the cheese scones at Omaramara on the way! We got our rental bikes and set off on one of the hottest days they've had so far. Even the cycle hire owner said there was an option for stopping earlier if we were "cooked" before Twizel! Oh no, we thought we'll be grand! Which we were, until after 40ks we stopped desperate to jump in the lake to cool off! No togs, just underwear! Imagine our surprise and delight, when we pulled into the Salmon shop carpark to find our car waiting for us! Arrhhh, we didn't have to do the remaining 10ks to Twizel! they must have read our minds.
What's the saying only mad dogs and Englishmen? Anyway, after cooling ourselves by purchasing any icy cold thing from the shop, we headed back to our camp for our last night at Lake Hawea and a homemade salmon pizza!
The next day we decided to not do anything too busy, so we only travelled to Lake Tekapo staying by the lake, sleeping in the back of the car with my daughter in a one-man tent, and gazing at the starriest night sky I have ever witnessed. What a treasure! From Lake Tekapo we done our longest day's travel so far, going all the way to Kaikoura. Of course, stopping of at Geraldine to sample their version of a cheese scone! Um, quite tasty!
That night we stayed in a motel room in Kaikoura as the thought of putting up the tent sent shivers down my spine! Watching TV and zoning out after all that driving. Kaikoura was very quiet, I'm not sure if it was because it was mid-week or the Covid restrictions hitting home, but the most life was found on the shore with the seal colonies. It was so lovely to watch the babies playing together in the pools, and really made my day.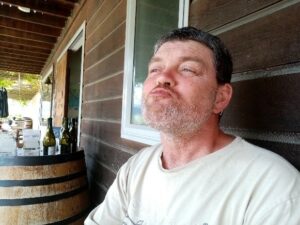 Next, we ventured into the Marlborough region, where it would be rude not to do a bit of wine tasting! We found a lovely organic winery called Fromm, on the way to Nelson. The man there (originally from Rotorua) was so genuine and informative. He showed us how to taste wine properly, (which is quite difficult when your swirling wine around your mouth and trying to get air in, at the same time) the different types of grapes, and the history of the vines. I could have stayed there all day listening to him (and tasting!).
But it was time to move onto Nelson and check into our student accommodation at the Polytech. I'm glad we stayed here for a couple of nights, the rooms were good and spacious. That night after a lovely Indian meal and a wander around the centre, we settled in to get a good rest for our last day in the South Island.
Nelson has 1/3 of the population as Tauranga, but the centre is buzzing! It has a museum which was truly interesting, a magnificent architecturally amazing Cathedral with beautiful stained glassed windows and the most impressive organ (which while visiting we had the pleasure of listening to someone playing). Nelson had a genuinely lovely atmosphere in its town. We had a lovely day wandering around the sights and shops, only to finish off with a beautiful Italian meal, run by an eccentric husband shouting "acqua" at his wife every time new customers turned up! After our meal, we wandered around the surrounding suburbs overlooked by the surrounding native mountains. What a lovely place, and a perfect end to our South Island trip.
The next day driving back to Picton, we had one more cheese scone tasting experience in Havelock, before boarding the ferry, and the waiting 3 metre swell crossing!! It's amazing how the comradery feeling happens to you, when you show, and those around you show our vulnerabilities together, to just get through an experience.  This is how I felt after our 4 hours "rough as" crossing back to Wellington. Yes, we got through it! Together! Aren't we great! Hello Wellington, hello lovely batch and a hot soak in the bath, to end our South Island adventure.
Driving up to Tauranga the next day, and after the last cheese tasting in Bulls, we were taken aback by the beauty we have right here under our nose. Lake Taupo really is a lovely spot and North Island's little version of the wonderous inner landscape of the South Island.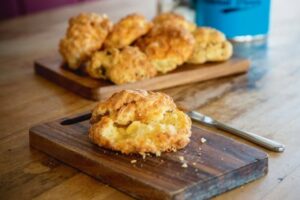 Oh, and by the way the cheese scone champions were Wanaka. Crumbly on the outside but soft and cheesy on the inside, well done Urban Grind! You certainly know how to make a great cheese scone!