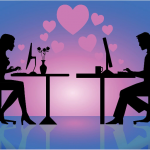 Last year I wrote an article on using online dating to find personal connection from the comfort of your own home. We had interest from members about this so I thought I would add a little more on the topic.
It is hard to meet people when you live with a chronic illness, the main reason being that we often don't got out to bars or regular work outside the home and we lose contact with friends & family, which normally help to produce dating connections. In recent years most dating has moved online, and this a whole new world to navigate. I want to bust a few myths about online dating, let you know what I learnt and encourage you to give it a go if you are looking for a relationship.
Myth 1: Everyone on dating apps is looking for a relationship.
I would estimate between 40-60% of people on dating apps like Tinder and Findsomeone are looking for relationships. The rest are looking for something else:
An online private friendship without meeting – they maybe in a relationship already, not ready for a relationship or just testing the water to see if the grass is greener.
For sex. You can spot these by the use of abbreviations like DTF etc or simply saying they are looking for sex. Do not think they are looking for a relationship, no matter how cute they are.
A few are looking for money. They are not real people often, just a bunch of people who will say the right things all the time (often misspelt) and not able to meet or video chat because they don't exist or live in NZ.
Some are there just catfishing you. They are not the person in the photo but often someone with personal problems who uses these platforms to try to find some connection, cause trouble, get back at a 3rd party or waste your time. Again, they can't meet or miss meetings because they don't look like the photo.
Myth 2: Photos never lie.
As mentioned above, photos do lie, images can be stolen and reused. Please don't just go off pictures, we are hard wired to look for the modern idea of physical perfection, that does not always link in with personality. Real people tend to have lots of photos, not all of them perfect but never just one studio air brushed photo. And some people use old photos from their 20's, so video chatting can be an excellent way to see the actual person.
Myth 3: Love will conquer all
Nope it will not conquer practical things like distance, understanding and compatibility. When choosing your dating area in app's like tinder make sure it's a distance you can manage to travel to visit the other person. There is no point in starting a long-distance relationship if you find travelling makes you symptomatic.
Myth 4: No one will love me if I admit I have a chronic illness.
Not correct either, many people out there are kind, caring and empathic. There are many ways we can tell people about our disability. Some people are very direct and put it in their dating profiles. For me, each person was different, sometimes it came up in a first date, sometimes the 2nd or 3rd and sometimes never, because I was not interested enough in them. Personally, I like to describe my condition, not just give a blanket name as so many people do not know what ME/CFS/FM/PVS/POTS/OI etc are!
Myth 5: all dating apps are created equal.
Be very weary of overseas apps, many have no New Zealand member on them, even though they say they do. Do not pay for an app to start with, all the big ones have the option of trying it for free. Most people find apps like Tinder, Bumble, FindSomeone good to start with. Many use paid options like Elite singles or over 40's dating sites also. Check the site out, research it, do the mahi on making sure it is legit before you join.
Elizabeth's tips for dating:
Do not message or text for too long before you meet. It can often be a waste of time, when you meet the person you will decide if they are "likeable".
Always meet in a public place for your first date.
These days Sexually transmitted infections are rampant though all ages and sexes so please practice safe sex always.
Do not ever give anyone money.
Make sure you are safe, and you are not giving out too much personal information before you have met the person. Visit: https://www.netsafe.org.nz/online-dating/
Know what you want out of dating but don't rush the process, take your time and please don't feel pressured to settle for just anyone.
Make sure you have boundaries many people want to chat late at night etc so make sure you don't exhaust yourself.
Talk about your dating with your friends and family, always let someone know when you are going on a date and who you are going with.
Have fun! It is meant to be fun, so when its not, take a break and get a hobby or join a group, you never know who you will meet!
Elizabeth McGougan – CCIS Field Officer