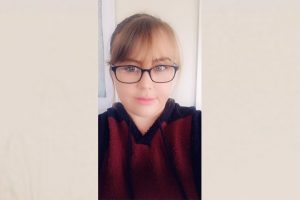 Article can be found here: https://www.sunlive.co.nz/news/242216-my-life-is-lockdown-tauranga-me-sufferer.html
Completing daily tasks like getting out of bed, showering, cooking a meal is a "full-time job" for a Tauranga woman battling with chronic fatigue syndrome. 
Angela Larsen, 25, was diagnosed with the debilitating illness, also known as myalgic encephalomyelitis, back in 2018. 
She has been forced to accept a new way of living – learning to slow down, rest up and find joy in the simple things. Today marks International ME Awareness Day. Angela is urging the community to show more respect and understanding to those living with the "invisible" illness. ME can cause disabling symptoms exaggerated by physical and mental exertion. According to the Association of New Zealand ME Societies, more than 20,000 people in the country have the disease. Angela experiences fatigue, brain fog, post-exertional malaise and body aches from ME. She also has fibromyalgia, which she was diagnosed with in 2017. It took about four years for her to get this diagnosis. The hardest part of living with ME and fibromyalgia is the grief that comes along with it, Angela says. "There's so much grief because you have to give up what you thought your life was going to be. Not to say that I have a terrible life or anything, it's just very different from what I imagined. "I don't work, I can't hold a job. Because my full-time job is living – just being able to shower and cook some food." Angela uses a shower seat and walking stick regularly. Needing these at 25 makes her "a bit sad", but it is something she is gradually starting to accept.
Many people in the community don't understand how crippling the illness is, says Angela. "I don't think the wider community understands it at all. People will say to me 'oh we all get tired – it's just life'. " "But this isn't a regular tired – it is so much more than that. We don't have restful nights of sleep, and our batteries never fully recharge." She says chronic illnesses, like ME and fibromyalgia, are invisible. A place of comfort for Angela and other ME sufferers in the Bay of Plenty, is Complex Chronic Illness Support. The group provides resources, support and connection to those suffering from chronic illness. Connecting with other members at CCIS has been "life-changing" for Angela, who says she felt such a sense of relief when she first joined two years ago. "They are like my chosen family. You just don't have to explain yourselves to the other members – they just get it. We will just laugh at our symptoms sometimes. "It's good getting advice from people who have had ME and fibromyalgia for a long time. It makes it easier to trust the process." CCIS has more than 200 members in the Bay of Plenty, most of them living with ME.
Angela, who lives with her partner, says her life hasn't changed much during the lockdown. "My life is lockdown – the only thing that has changed is that I can't go to the supermarket." CCIS field officer Elizabeth McGougan echoes this sentiment. "These conditions can disrupt people's lives and cause them to live in 24/7 lockdown." She urges people to show kindness and support to those living with the hidden disability. "We very often feel very alone and isolated. Imagine if you lived in 24/7 lockdown, if a trip to the GP or supermarket was all you could manage for the whole week."Everyone has had a small taste of how tough it is to live like this, so let's not forget about people who will continue to live like this after we have all returned to normal" Angela reckons if she didn't have her partner to take care of her, she would be living back at home with family. "When my symptoms flare up all I can do is rest – either in bed or on the couch."
While there are ways chronic fatigue syndrome can be managed, at present there is no cure for the illness. A Givealittle page has been set up to raise funds for CCIS members to access treatment that isn't government subsidised. "Many of our members are not able to work due to the severity of their conditions so they find it nearly impossible to afford the treatments that they need," says Elizabeth. "We see our members remaining unwell simply due to a lack of money to afford the treatments that we know would help them. Many live in pain and are unable to access help to relieve that pain." Treatments include consultation with national ME specialist Dr Rosamund Vallings, physio, massage and acupuncture. For now, Angela's tabby cats Mercy and Leo provide much-needed distractions from the daily struggle of living with chronic fatigue syndrome. So does taking care her of her indoor plants, and getting out in the garden when every once in a while. "My cats bring me joy – they are cool characters and they just distract me. I also find I take better care of myself when I take care of my plants."