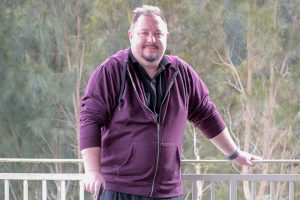 "It's great to be able to help people, especially my lifesavers, who helped me out of the darkest place I have ever been in."
Matt Appleton's giving back – a 40-year-old living with ME, or chronic fatigue syndrome, who's now a volunteer field officer working with young members of CCIS, or Complex Chronic Illness Support, the group improving the quality of life for people suffering complex chronic illnesses.
"I am back in quite good head space," says Matt. "And it's nice going into CCIS, somewhere you feel like a regular human being again." Because for the best part of 20 years he hasn't felt normal. "I thought I was losing my sanity, going crazy."
Matt was racked with chronic fatigue syndrome, debilitated by unrelenting tiredness and pain, and no-one was able to tell him what was wrong. "So frustrating," says Matt.
He's bravely sharing his ordeal with CFS to promote the CCIS's biennial seminar at the Otumoetai Baptist Church auditorium on Otumoetai Road at 11am on Saturday, August 25.
The spotlight will be on Dr Ros Vallings – New Zealand's pre-eminent  ME/CFS specialist. She will be reporting on cutting edge research into ME/CFS from a conference in London recently, and anyone with an interest in this challenging chronic condition is welcome.
Dr Ros Vallings was the GP who nailed Matt's condition.
"Until that point, I was unable to wake up in the morning," he explains. "I regularly slept until one or two in the afternoon, but I still woke up exhausted. I was very dysfunctional. I was unable to guarantee doing anything at any specific time. I couldn't make an appointment and guarantee to keep it."
He says doctors didn't know what to do with him. "One doctor put me in the depression basket because after four or five years of feeling terrible and having no answers, you think you are going mental." And there was little sympathy or understanding because he looked pretty normal.
Then Matt and his mother put the pieces together and suggested to a doctor he had CFS. "But the doctor didn't believe in ME or CFS," he explains. "We were asking him to diagnose something he didn't believe in. It was crushing."
Matt Appleton went to see Dr Vallings. "I remember it well – it took her all of two minutes. It was nice to get confirmation and to know you aren't going crazy."
His dark times continued though. "I suffered a heart attack at 35 – not just as a result of CFS, but it certainly played a part. The stress didn't help, and not being able to exercise."
Then the hair and makeup artist by trade was forced to say he couldn't work, as he just wasn't physically reliable enough to work. He also walks with a stick. "I feel old before my time," he says, and if he goes to a mall to shop he has a certain window of opportunity. "I have to be in and out and gone in a certain time before I topple over."
But Matt Appleton's counting his blessings. "Life is challenging and frustrating, but with surprising benefits." He has learned to appreciate the smaller things. "When I have a good day, when I do feel a little more pain free and have a little more energy, I am very grateful for that."
Then he hooked up with Tina Richards and Kira Follas at CCIS and did their 'Towards Wellness' programme. "They really had to encourage me though, I was quite resistant," he says. "I said 'no, I am fed up with this and I'm not bothering'." But he did bother.
"They were incredible and overwhelming. They were lifesavers, 100 per cent." Although he rates himself only 50 to 60 per cent of what he was pre-ME or CFS. "No sports. I can't exercise for any measurable time, and I struggle with mundane things like doing the dishes and cooking."
And the CCIS volunteer can ring in on a bad day, when he's not up to doing much, and he doesn't have to explain. "Nothing more needs to be said." The prognosis is day by day, but he's in good head space. And that feels good.
The Full story can be found at THE WEEKEND SUN