Severe acute respiratory syndrome coronavirus 2 (SARS-CoV-2) is a novel coronavirus.  The SARS-CoV-2 virus that causes COVID-19 has undergone genetic mutations over time as it adapts to humans, therefore making eradication and management very difficult. The symptoms of COVID-19 are like common illnesses such as a cold or influenza.
The New Zealand Ministry of Health has very detailed information about Covid-19: NZ Ministry of Health If you think you have COVID-19 call Healthline on 0800 358 5453 24 hours a day, seven days a week, or talk to your doctor.
Below we discuss the implications of Covid-19 and ME/CFS.  This page is a work in progress and will be updated as more information comes to hand.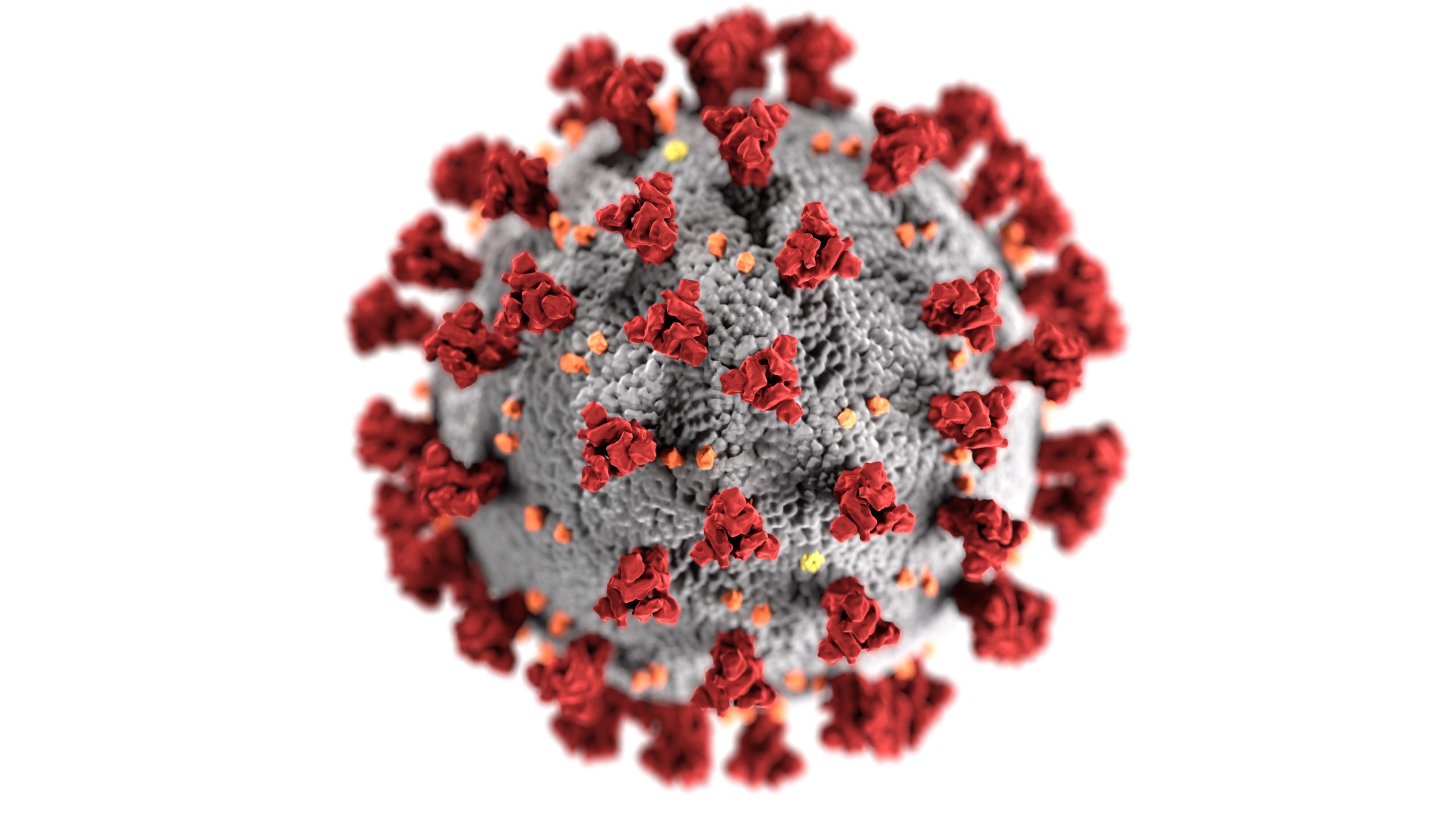 CCI Support and Covid -19
Updated:  12 January 2021
Hello to our wonderful members.
We are now 2 years into the COVID pandemic and it's hard to know when we will see a return to normality, it will happen but we do need to be patient and follow the health guidelines until it happens.  In the meantime CCI Support continues to operate, even during all lockdown and 'traffic light' levels.  Whilst some services may appear differently and more precautions are put in place.  CCIS is a Health organisation, we are under the health orders and mandates, and all in-office staff and volunteers are fully vaccinated – by their choice prior to the mandate being enforced by the New Zealand Government.
CCIS works with EVERYONE! Vaccinated or not. However, services for unvaccinated may appear differently and for the most part, will be 'non-contact'.
Head Office (53 Fraser St) is a vaccine-only premises, this means that in order to enter the building, you must scan, wear a mask, show your vaccine pass or exemption paperwork, maintain physical distance and sanitise on entry.  The building is shared with other agencies (including people with cancer) with clients who are immunocompromised. It is our responsibility as an agency, to protect not only our staff and clients, but others that enter the building as well.
We will continue with our monthly member's meeting being online, but as soon as we can secure suitable vaccine-free premises for in-person meetings, we will start those meetings again.  Social Groups are also up and running again from February 22 and these will follow venue guidelines.
Appointments with your Health and Wellness Facilitators can be made directly here: https://complex-chronic-illness-support.au2.cliniko.com/bookings#location
Alternatively, their contact details are below and they will be in contact when they can.
Kind Regards, The Team at CCI Support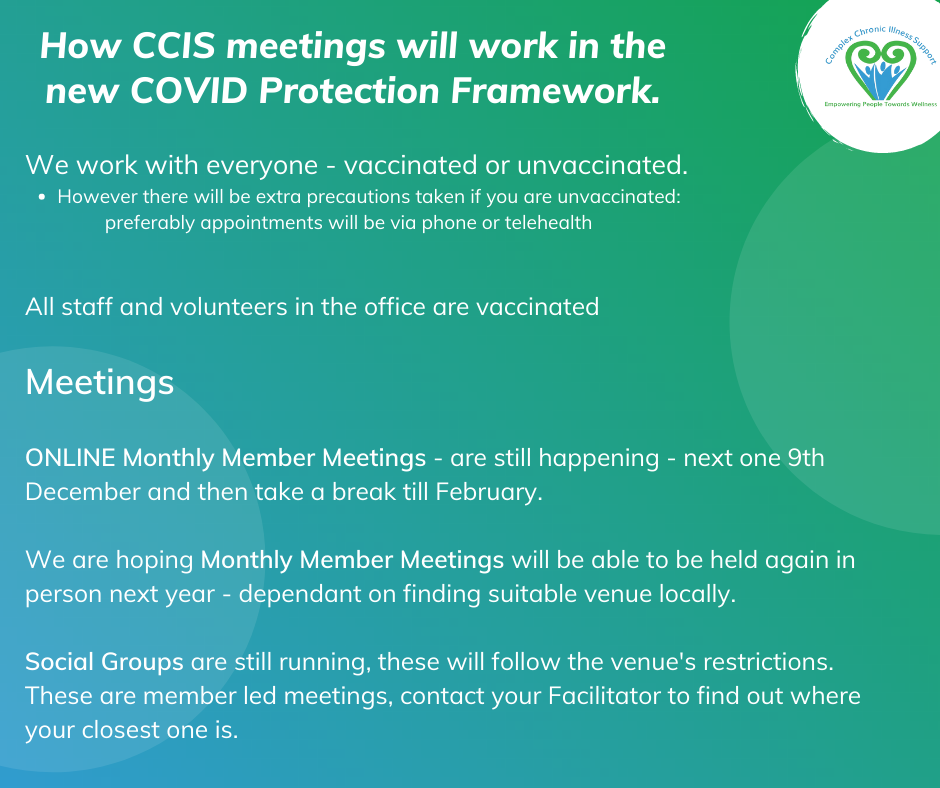 Covid-19 and ME/CFS
If you have ANY concerns about COVID and your M.E./CFS and other conditions please speak to your GP or Specialist.
We highly recommend that you follow all health guidelines set out by the Ministry of Health.
Whilst we are not seeing that people with ME/CFS expressly are at a higher risk of dying from COVID19 than those of the general population, what we are seeing is that those with ME/CFS that contract COVID19 do risk a significant worsening of symptoms and higher risk of a relapse.  However, we are also aware that ME/CFS does not live in a vacuum and that many with ME/CFS also have comorbidities, which could pose a higher risk of complications from COVID19.
We have been lucky within New Zealand to not have COVID19 spreading uncontained, limiting the risk to the wider population and more vulnerable people. However, we can look to other areas in the world that have not been so lucky.  ME Action in the UK and Scotland have conducted a survey to find out how COVID19 is affecting those with ME/CFS  Preliminary Report.  Unfortunately, it is not great news with 76% of respondents reporting that Covid-19 had made their ME symptoms worse, many with long-lasting impact to symptoms for more than 6 months after infection. This is one of the reasons our medical advisor has suggested to people with ME/CFS to get the vaccination against this virus (if you are safely able to tolerate vaccinations and in conjunction with your own GP recommendations), and the risk of reaction to the vaccine does seem to be far lower than the risk of relapse from the virus itself.  Please see the section on Vaccines and ME for recommendations from the ME/CFS experts.
Emerge have some good advice re: COVID and M.E/CFS   https://www.emerge.org.au/blog/corona-virus-and-me
Preparing for COVID-19 in your household
Reducing the risk of catching Covid if you have ME/CFS by Dr. Charles Shepherd
In November 2020 the UK-based ME Association put together a very practical 10 point guide for people with ME/CFS to reduce the risk of contracting Covid-19.

The NZ COVID 19 webpage has a great section on preparing your family for COVID.  It's worth checking out: COVID 19 GOVT NZ
ME/CFS and the Covid-19 Vaccine
Long Covid
Radio New Zealand – Dr Rosamund Vallings on Covid long-haulers and CFS/ME
Long COVID and ME/CFS by Dr Charles Shepherd
Long COVID is a condition that "occurs in individuals with a history of probable or confirmed SARS-CoV-2 infection, usually 3 months from the onset of COVID-19 with symptoms that last for at least 2 months and cannot be explained by an alternative diagnosis".  For some people, SARS-CoV-2 coronavirus (COVID-19) can cause symptoms that last weeks or months after the infection has gone. This is sometimes called post-COVID-19 syndrome or "long COVID".
Whilst this is a new 'condition', we at CCIS were all too aware of its possible implication from SARS-CoV-2.  Long COVID resembles the very familiar to us (ME/CFS) Myalgic Encephalomyelitis.  We are aware that Long COVID has a serious impact on people's ability to go back to 'normal' life. It affects their mental health and may have significant economic consequences for them, their families and for the wider community.
Emeritus Professor Warren Tate says the main difference between the two is ME/CFS can be caused by several viruses, including Epstein Barr and Glandular Fever, and also by non-viral sources like trauma and agricultural chemicals, whereas what we call Long Covid is caused by just one pandemic virus, Sars-CoV-2.  Long Covid also includes unique symptoms particular to the effects of Covid-19, including hypercoagulation, a condition that causes blood to clot more easily.
Common long COVID symptoms include:
extreme tiredness (fatigue)
shortness of breath
chest pain or tightness
problems with memory and concentration ("brain fog")
difficulty sleeping (insomnia)
heart palpitations
dizziness
pins and needles
joint pain
depression and anxiety
tinnitus, earaches
feeling sick, diarrhoea, stomach aches, loss of appetite
a high temperature, cough, headaches, sore throat, changes to sense of smell or taste
rashes
Treatment of Long COVID is similar to that of ME/CFS – managing symptoms, pacing, pain management, if PEM is experienced, you need to avoid exercise and activities that cause fatigue or symptoms and conserve your energy.
Where can I get extra Support
Check how long the wait is at your local supermarket or Covid testing station.  https://timeintheline.co.nz/
Community Support Agencies
Pukete House – HAMILTON
based in Hamilton food delivery and foodbank parcels.
https://www.puketehouse.org.nz/covid-19
Good Neighbour
Food rescue 07 394 4249 / 022 043 1040
Citizens Advice Bureau
For free information and advice. Can support you with any issues and connect you with other available services.
0800 367 222 free for mobiles, or by email www.cab.org.nz/contact-us
Salvation Army
Continue to deliver services and food parcels
Phone 07 578 4264 (option 3) or email [email protected] Facebook: Tauranga Salvation Army
Civil Defense Bay of Plenty Emergency Management
Help with essentials if you need it call 0800 884 222
WINZ Financial Support
"If you've been affected by COVID-19, we may be able to provide financial support. You may be self-isolating at home, or your work may be affected".
https://workandincome.govt.nz/covid-19/index.html?utm_source=redirect&utm_medium=147
Reliable information on COVID-19
For all your questions around COVID-19 from alert levels to financial support
Useful Government links
What do I need to do right now to stay healthy – MOH 
Information for people who receive home support and their family/whanau – MOH
Free communication and connection
Use WhatsApp features, like groups, voice, and video calls
Zoom
Video calling and meetings https://zoom.us/
Facebook
Messaging, video calling https://www.facebook.com/
Mental Health
Helplines
1737– Free call or text 1737 any time for support from a trained counsellor.
Lifeline– 0800 543 354 or free text 4357 (HELP)
Youthline– 0800 376 633 or free text 234
Samaritans– 0800 726 666
Mental Health Foundation
Looking after mental health and wellbeing during COVID-19 https://www.mentalhealth.org.nz/get-help/covid-19/
Anxiety around COVID-19
Care for your Coronavirus Anxiety by Shine Tool kit – Resources for anxiety and your mental health in a global climate of uncertainty.
https://www.virusanxiety.com/?fbclid=IwAR2BZPuM9wJunh528RErEZHyry92PBdzk5aMNLjHfzc7luPl1Mi5v0ZYK1k
COVID-19 related health concerns
Healthline 0800 358 5453
MSD Support
Although our service centres are closed due to lockdown restrictions, we're still here to help and can be contacted on 0800 559 009 (individuals) or 0800 778 008 (employers).  Below you'll find information and support available. 
Support for individuals
 During this time, you may be looking for new or additional ways to help you, your team or your family feel mentally well and get through.
Information and tools available to support your own and others mental wellbeing, and where to get help if you need it.
When times get tough, looking after our wellbeing is crucial.  These tips are based on the Five Ways to Wellbeing and Te Whare Tapa Wha.
If you feel like you're not coping, it's important to talk with a health professional.  There are helplines available that offer support, information, and help.  All services are available 24 hours a day, seven days a week.
Community support
The Government has contracted approved licensed home-based early childhood education and care providers across the country to provide childcare to workers in Alert Level 4 businesses and services.
We all need food and essential items such as medicine through alert level changes, so please do not try to go without.
Find a local foodbank here.  Bay of Plenty Foodbanks
If you, or someone you know, has nowhere to stay tonight or in the next seven nights, you/they may be able to apply for emergency housing.
Help and support is available if you or someone you know is experiencing or exposed to family or sexual violence. 
It is okay to ask for help if you or someone else is in danger. If you think someone could be harmed or may harm themselves, call the Police, even if you are not sure.  Keep an eye out for the safety and wellbeing of children and vulnerable adults. Talk to friends, whānau and neighbours if you need support, or to see if they need help. Use social media to keep in touch and check in with each other. 
Disability Services Operating at Alert Level 4
As at 18/8/21 – The Ministry of Health advises the following for Disability Services Operating at Alert Level 4 
If services can be provided (including digitally) within alert level restrictions, they are contractually required to do so.
Disability residential care are essential services and must continue to be available.
Essential personal care services, such as toileting, washing and feeding, should be provided as usual.
Essential home help, such as house cleaning, may be available where appropriate PPE is used.
Planned respite services will be suspended, but urgent respite care may be provided.  The MoH can provide some flexibility for paying secondary carers for respite.
Essential supported living services can continue.
Support persons are permitted under right 8 of the Health and Disability Code.
For disability residential care, family visits are not permitted except on compassionate grounds (usually only for an end-of-life) subject to public health direction and provider assessment on a case-by-case basis.
The MoH has engaged with New Zealand Disability Support Network and Home Health Association, and have two technical experts working with the Ministry to agree how certainty of funding will be provided.  The MoH will have a further update to you soon.
There will be more messaging to come. 
Food Delivery
Where to shop if your local supermarket is unavailable
Kiwifresh Meats – Gate Pa Tauranga
To order, please call us on 075796000 or email [email protected] – please note, this ordering system will only be for the duration of lockdown.
Vege star Greerton – Tauranga
We are open and doing deliveries and pick-ups. So get yourself some healthy fruit and vege.  https://vegestar.co.nz/
Paddock to Plate
As well as big boxes of fresh produce, you'll also find cupboard staples such as chickpeas, lentils, rice and baking ingredients, dairy products and a range of snacks and liquor. While you're there, they also have some great Father's Day gift boxes – a one-stop shop, you might say.  Paddock to Plate delivers nationwide and offers free shipping on orders over $125.
Ooooby
For local organic produce delivered to your door, you can't go past an Oooby Box of fresh fruit and vegetables. It also has a great range of baked goods – think brioche buns, sourdoughs, croissants and gourmet sausage rolls – plus your usual supermarket go-tos, from kombucha to toilet paper to cheeses, meat and snacks.  Available in Auckland and Christchurch, delivery is free on orders over $200.
Asian Grocer
If you've been craving dumplings, sushi, or a good bowl of ramen, you'll find the next best thing via the Asian Grocer. From pad Thai meal kits, tinned bamboo shoots, gochujang and durian cakes – if that's your thing – to Asian noodles, rice wine vinegars, sesame oils and soy sauces, the Asian Grocer has it all.  With nationwide shipping, you can't go past this online offering for getting Asian grocery items delivered to your door.
Supie
Supie is a full online supermarket that prides itself on its mission to provide food that's extremely fresh and delivered through better sustainable means. If you want your apples just off the tree, for example, Supie might just become your new grocery go-to.
You can also filter your search by over 50 different diet types. So if you're gluten and dairy free you can shop the site for products specific to those categories.  Delivery available throughout the Auckland region.
The Honest Grocer
The Honest Grocer has a great range of online goodies, with Express shipping available on loads of items like dairy, fruit & veg, and free-range meats. It also has membership options for people keen to make it their regular stop. Delivery available North Island only, excluding rural.
Cracker Jack
Discount shopping stores like Cracker Jack are still operating in level 4, and offer a range of Kiwi favourites as well as some international gems. Cracker Jack is only available online, but is well worth checking out if you are after some fun treats, to go alongside grocery items.  Cracker Jack postage is $6 within the North Island and $9 for the South Island.
Stuff also has an online directory of local businesses safely delivering food and beverage throughout lockdown.
We completely understand that many of our clients have food allergies and sensitivities or are struggling to get food delivered from the supermarket.
SPECIALTY FOODS
As supermarkets are selling out of a lot of specialty foods, here are a few stores that supply organic food, GF, lactose free, supplements etc.
Huckleberry Mount Maunganui
35 MacDonald Street
Mt Maunganui
ph: 07 2220098
Shop instore
Order from website for delivery but comes from Auckland
Not currently doing deliveries from Mt M store
WholeFoods Bin Inn
30F Gravatt Rd
Fashion Island
Papamoa
ph: 07 5750717
www.bininn.co.nz    over 34 stores nationally
also Bethlehem store 07-2208844
Bulk bins- no personal containers allowed, given gloves and use their containers.
Shop instore
Some stores are delivering-phone first to check.
Plum Organics
22/2 Gravatt Rd
Fashion Island
Papamoa Beach
ph: 07 5742160
Open for contactless shopping, come to door they will get your items. Pay across door or over the phone. they offer delivery to local area approximately $5.00
Ceres Auckland
82 Carbine Rd
Mt Wellington
Ph: 0508 423737
Shop instore
Delivery nationwide from $5 to $11 (up to 10kgs) or over $99 freight free
Organic Nation
245 Commerce Street
Hamilton
ph: 07 8481155
Shop instore or order over the phone for deliveries nationwide. Delivery free over $100.
Commonsense Organics
147 Tory Street, Te Aro
Wellington
ph: 04 3843314
Shop instore. Order online deliveries.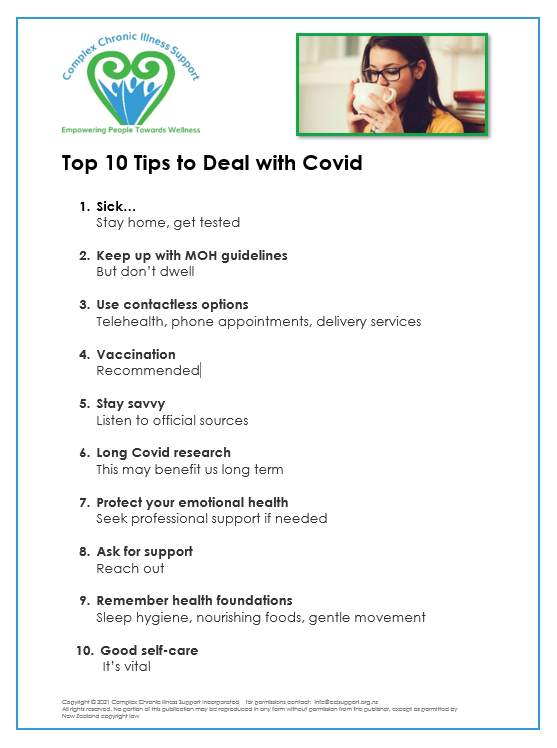 I want to thank you and the team for the continuity of care especially at the moment in such a fluidly changing environment, I have never felt so supported in all my life. I am so glad CCIS exists and I'm so grateful for all the positive outcomes and emotional growth I have been experiencing as a member. Bless you for all your hard work and for being so caring. Please look after yourselves too! 💓🌷x J.M
37% of people had at least one long-COVID symptom diagnosed in the 3-6 month period after COVID-19 infection. The most common symptoms were breathing problems, abdominal symptoms, fatigue, pain and anxiety/depression. This new study from the University of Oxford and...
Empowering People Towards Wellness
Self Referrals are accepted : REFER HERE
Even during Lockdown Complex Chronic Illness Support staff are working remotely.
Phone: 07 281 1481 or 022 658 0251