The 2022 notice is here: 2022 AGM. 
Sorry – the link didn't work when I sent it out. Miranda
AGM NOW ONLINE – 25 September at 10am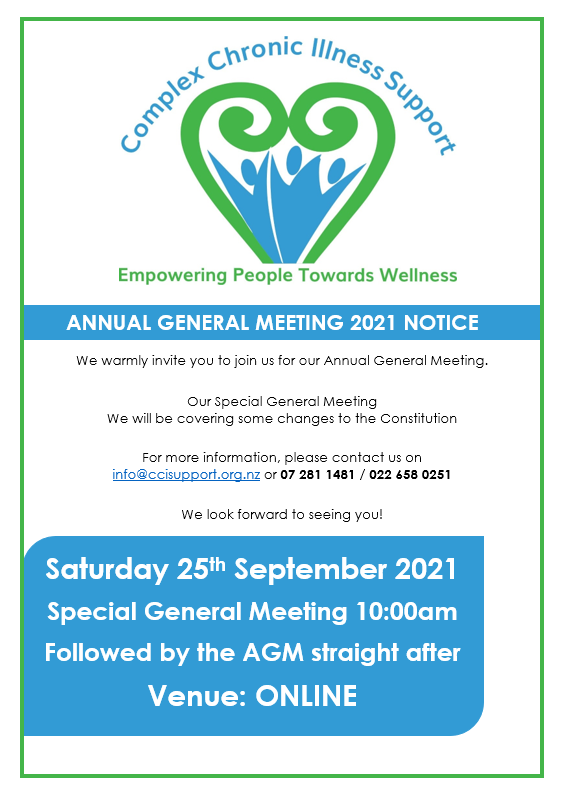 As always with CCI Support, RSVP is the 'intention' of making it if you are well on the day.
BOARD NOMINATIONS
Each of the Nominees are asked to write a 300-word piece explaining why they would like to be on the CCIS Board from August 2021
And the Nominees for the 2020 / 2021 CCIS Board will be available once we receive them
Keith J Appleton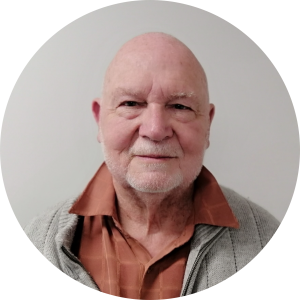 I'm the current President of the CCIS. I also represent the board, as a trustee of ME/CFS (BOP) Charitable Trust. My term on the board has been interesting and rewarding, initially as Treasurer assisting in the re-structuring of CCIS to avoid bankruptcy, Also the appointment of our Operations Co-ordinator thus enabling the board to work on the business not in it. It is my belief that any Director should listen to and be available to organisation members, something that I endeavour to put into practice.
During my time as President of the board I have been privileged to work with a progressive thinking team.  I have met with members, listened to them, enjoyed dialogue, evaluated their thoughts, ideas, and concerns.
I believe this input has contributed to the positive changes that have resulted over the past twelve months.
Those changes include achievements by way of creating greater financial stability for CCIS by appointing the right staff to oversee and administer the organisation; looking to expand our funding base and services.
I am married with three adult children, and three grandchildren.
Both my wife and eldest son suffer from ME/CFS. Both are members of CCIS.
Being on the board has allowed me to further my knowledge and understanding of the organisation, its members, and allowed me to use both my expertise and experience to contribute positively toward the stability, future growth and development of the CCIS for support of its members.
I believe that I can continue to offer innovative ideas in areas of strategic planning, strategic partnerships, risk identification and management, fund raising strategies, together with financial, audit and accounting expertise.
If re-elected I will continue being available to those members who choose to contact me.
Karen Moulton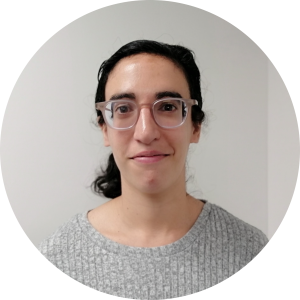 My professional background is in optometry (I have been an optometrist for 12 years) of which in our job we see patients from all walks of life, many with the conditions CCIS is involved with; in particular chronic fatigue and fibromyalgia. I have also done postgraduate study in public health and health promotion.
On a personal level I also have a friend my age late 30's who has fibromyalgia and has often had to stop her work and hobbies at times due to her variable condition, so I have seen first-hand how these conditions can affect a person's life and well-being on a daily basis.
Having volunteered in a field officer support role I have seen the great work the field officers are doing to support client's in the community and would like to be involved further by contributing as a member of the board. I don't think the general public realise how common these conditions are and how debilitating they can be and I believe being on the board would love the opportunity to further progress the organisation in the community.
I am currently already standing on the CCI Support Board.
Sarah Davey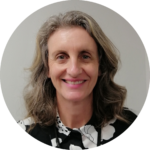 My name is Sarah Davey. I grew up in Tauranga. I am married to Trevor and we have 3 adult children and support my elderly parents. I have a professional background practicing commercial and property law but about 25 years ago I had a change of career and entered the health and social services sector after having our three children.  I have had a lifelong passion for enabling people with disability to lead their best life. I started a supported independent living services for young adults with intellectual disabilities called Beacon Hill House.  I then had the privilege of being CEO of Avalon Incorporated which was a social enterprise based in Te Puna providing vocational supports for people with intellectual and physical disability. In 2009 I joined the District health Board Planning and Funding team. I have held various roles at the DHB primarily with an interest in strategy and change management.  I am currently the Manager for Innovation + Improvement.
I joined the CCIS Board in 2019 after Keith twisted my arm and I am still in a learning phase about our members and understanding this complex world of complex chronic illness.  I am always hearted to hear about how this small but feisty organisation is making a difference to someone's life.
I wish to continue my board membership. The role I can play is in wise stewardship of resources, guiding the strategic direction, ensuring that the organisation is here for our members in the future. 
Please consider my nomination for the Board.
David Harris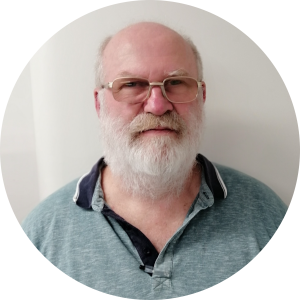 Born in Bradford on Avon England, 27 February 1954 and emigrated to New Zealand with my parents six weeks later where I have lived since as a Permanent Resident in the Western Bay of Plenty.
Educated firstly at Tauranga Primary School, then Tauranga Intermediate and Tauranga Boys College from 1967 to March 1971.
I was raised on a local Ohauiti Dairy Farm and received an early introduction to horticulture picking lemons and mowing grass for my grandfather, the then chairman of the NZ Citrus Marketing Authority learning about the early days of citrus marketing and processing gaining further work experience in Horticulture during my working and business career.  As a teenager I worked on a Sheep and Beef Farm weekends and School Holidays.
Married my wife Cathy in 1977 with three adult children, two grand children and another due early December 2020. Cathy has a BA(Mus) degree and teaches as a Vocal Tutor one half day a week at Te Puke High School. Cathy plays a very integral and important role in the three Small Business' we operate and continues to be caregiver for my CFS.  We have lived in and around Tauranga returning to my Family home in rural Ohauiti in December 2006 and since June 2011 owned a Lifestyle block as a move towards realistic sustainability, providing the opportunity for me to work when I can rather than when I have to according to my energy reserves and CFS symptoms.
I have worked in and around Tauranga my whole working life in Banking, Business Accounting and Management and at most levels of the Information Technology industry also designing and building Microsoft Access database systems since 1994.  I am currently part of a small team that have setup and operate three business units from our lifestyle block at Ohauiti:
CropCheck Ltd (cropcheck.co.nz) provides Pest Monitoring and other Services to mainly Avocado Growers but also other fruit Crops.  We have seven qualified field pest monitors, one Administrator and a Management Consultant.
MeCount Business Systems Ltd (mecount.com) is my IT Services and Business Management Company. I am a Computer Engineer and Microsoft Access Database Developer with prior Business Accounting and Administration backgrounds.  MeCount provides critical supply chain services for our other Business Units and others.
BlueSkyData Ltd (blueskydata,co,nz) is our Western BOP located and based DataCentre hosting Websites, Domain Names and emails, providing Cloud Storage and Hosted computing Solutions.  BlueSkyData provides critical supply chain services for CropCheck and others.
I was diagnosed with Chronic Fatigue Syndrome in 2000 and in March 2015 with Immune Thrombocytopenia (ITP) or low Platelets, another Immune system condition with one of the main effects being extreme fatigue.
Complex Chronic Illness Support Inc (Formerly ME/CFS BOP) provided both Cathy and myself significant help and support during the years after my diagnosis in 2000, after a significant viral episode in 1991.  Before this past year I previously served on the Board of ME/CFS BOP as Treasurer Vice Chairman and Chairman and see that being part of the Governance Board of CCIS is a way I can use my accumulated Business Management experience and Technology skills to "pay it back" and help build a better support organisation and experience for those with Chronic Illness.
Matt Appleton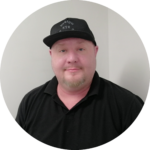 Dear CCIS Member,
Some of you may know me already but for those who don't, please let me introduce myself.
My name is Matt Appleton and I am currently the Vice President of the CCIS Board. I am a fellow member who suffers from M.E. and Fibromyalgia and have done so for approximately fifteen years.
My life before M.E. was very full. I worked hard and partied a little hard too (which probably helped me develop M.E. in the first place). I worked full time from the age of sixteen and have owned my own businesses (in two different industries) from the age of eighteen onwards. I had what most people would call success. Then came M.E. and everything crashed.
I had all but given up before meeting the staff at CCIS and completing the Towards Wellness Programme. This helped me get back some control in my life which has enabled me to participate in giving back to CCIS, first as a volunteer then using my entrepreneurial skills as a Board Member for the last two years. I believe I have been a positive contributor to the Board in my time and would like to continue to do so if you would allow me the privilege of being re-elected. My other special positive contributions include my involvement in the interviewing and employing of the Operations Co-ordinator and the new Field Officers.  We have some tough times ahead of us with the Covid crisis and all that brings with it, but I stand by the record of the Board for the last two years which has seen us be in a relatively good position compared to many others when Covid hit. We are a positive and forward-thinking Board that has done great work together and I look forward to continuing that along with the other current Board members and any new ones who join us.
Thanks very much.
Fiona Charlton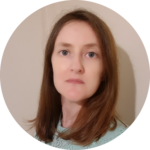 I have a background in corporate marketing, senior management and client relationship management as well as non-profit fundraising in NZ and UK. I have a B.Sc in Psychology, a B.A in Education, several diplomas in natural health and a Post Graduate Certificate in Health Science. My interest in alternative medicine and nutrition began as part of my own journey with chronic illness. I became ill in 2008 with Fibromyalgia, then ME/CFS and orthostatic intolerance, and I seem to be adding more auto-immune disorders to the list as the years go by! For the past seven years I've organised the monthly social support group in Te Awamutu and about to start facilitating the Cambridge social group. I was involved with discussions to bring the Waikato services to CCIS, so joining the Board in April 2021, just seemed to be a natural next step as I wanted the opportunity to be an integral part of an organisation that improves the lives of people living with chronic illness. I feel that I haven't had much of a chance to make a difference yet so I welcome the opportunity to continue in this role if re-elected, as it is so important to me that the needs of the community are met through an organisation that truly understands these complex conditions.
Documents for the SGM and AGM are available below
In the Special General Meeting we will be looking at and approving changes to our current Constitution.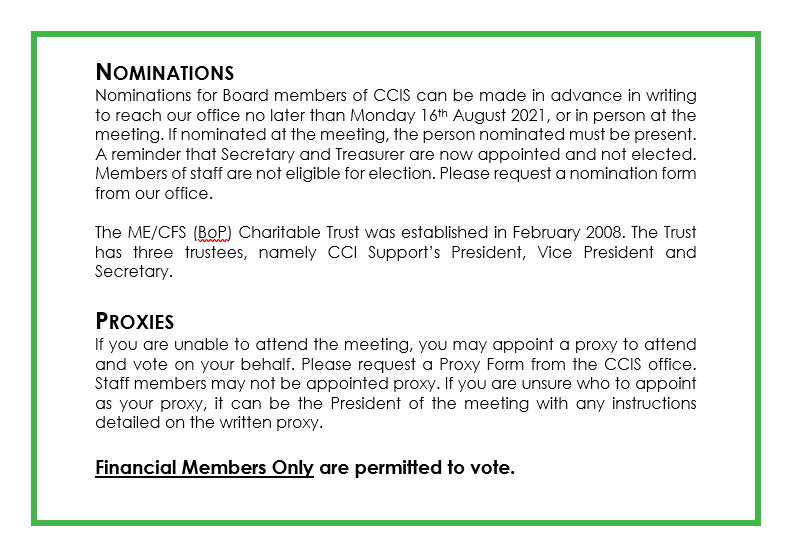 Nomination Form: 
Proxy Form:
Please upload the completed Nomination and Proxy forms below or email them to [email protected]