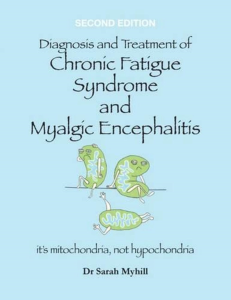 This densely filled book is definitely divided loosely into two. One half showing and explaining the history come conclusions at time of publishing whilst the other half is more hands on with precise charts and step by step management plans for different scenarios.

The index was my go to and made access to information more time efficient. The lack of energy and brain clarity with this condition makes any research and retention of information a challenge and this book as detailed as it is tries to keep things as coherent as possible. Clearly written in a U.K. setting where their medical system is set up differently, nonetheless it opens a world of possibilities, especially in this day and age of technology with online access.
While this book is not a quick read front to back, the ability to pull information from it as required makes it a valuable reference book and shows the reader how to chart their medical needs which gives them multiple ways to establish a foundation from where they can pursue their particular set of symptoms and ailments.
– Reviewed by D R Hollis